Cyclamen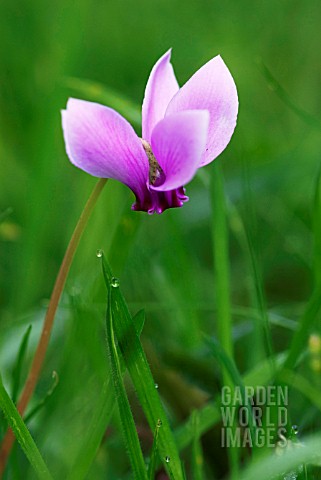 Via Garden World Images

The flower symbolism associated with cyclamen flowers is resignation and goodbye. This symbolism makes cyclamen especially appropriate for gifts for friends who are retiring or relocating.
[2]
The most difficult thing to do is to say 'goodbye'. Parting and separation are an integral part of life, yet, how often we cower away from the thought of saying goodbye to someone we love! At times such as these, offering a cyclamen often shows greater sentiment, a more valuable emotion than bombastic words of farewell.
Cyclamen is a
genus
of 23
species
of
perennials
growing from
tubers
, valued for their
flowers
with up-swept
petals
and variably
patterned
leaves
. Cyclamen species are native from
Europe
and the
Mediterranean
region east to
Iran
, with one species in
Somalia
. In most species, leaves come up in autumn, grow through the winter, and die in spring, then the plant goes dormant through the dry Mediterranean summer. [1]